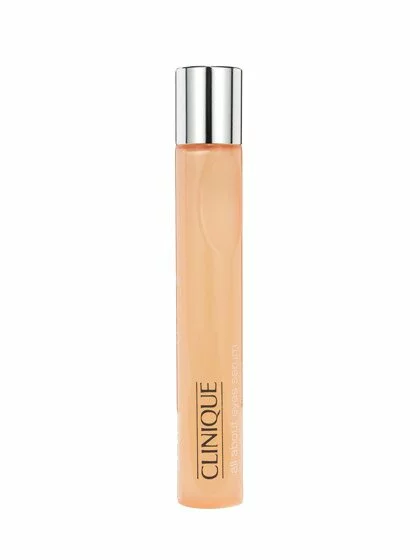 Clinique All About Eye Serum De-Puffing Eye Massage
Price: $34,83 Buy Now
This instantly cooling rollerball helps massage away bags, refreshes and hydrates puffy eyes on contact. Brightens eye area immediately and over time. Combats dark circles, too. With caffeine, potent antioxidants and soothing botanicals. Oil-free, non-irritating. Ophthalmologist Tested.
Skin Type: All
The rollerball feels cool on the skin; the serum has a liquid texture; there is no scent.
The Truth: The serum stays put once you apply it and doesn't drip or migrate. The slim, rollerball packaging is easy and convenient—just throw it in a ziplock bag for travel.
Clinique All About Eye Serum De-Puffing Eye Massage
Reviews:
"works instantly, smooths line, feels refreshing, little goes a long way, product is clear odorless and calming"
gaben
"I have always had trouble with my eyes being puffing in the morning, and sometimes in the middle of the day. This is the first product that actually works! (I have tried many) It is soothing, and my eyes look great, and I can put make up immediately afterwards!"
anj19
"This is the best product I have used in the Clinique line. You can see it working right in front of your eyes. I've given it as gifts to some relatives and friends. I highly recommend it."
Tabitha09
"Skin under the eyes is tighter and a bit brighter. This stuff lasts forever… I've had it for 3 months and am not even halfway down the tube!"
RachelA18
"I don't care what anyone else says, but I noticed a difference after 1 week of using this product. I really like it,will continue to use it and purchase it again when I run out."
blkgrl1
"works very well for dark under the eyes and puffiness"
metome
Buy Clinique All About Eye Serum De-Puffing Eye Massage