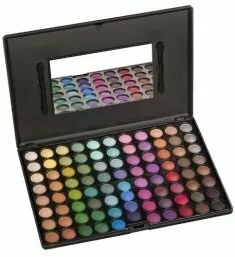 Coastal Scents 88 Color Makeup Palette
Price: $18.74 Buy Now
88 matte and satin shadows with slight shimmer
Great size for storing and traveling
Highly pigmented shadows
All shadows can also be applied wet for a deeper longer lasting effect
Reviews:
"So I also hesitated to buy this because I had never heard of the brand and the price was WAY too good. But I gave in and don't regret it AT ALL!
It was received quickly, very padded, no damage at all. The colors are extremely vibrant and VERY pigmented,and a few are glittery.
BE WARNED the colors are more pigmented than they look in the picture, i'm not the kind to wear some of the colors in it since I did not know just HOW pigmented they were. BUT that does not take from anything from the quality itself, the actual case and applicators aren't the best but it's very portable and functions.
That's ALL that matters, and you probably HAVE applicators and or brushes laying around anyway. I know somebody commented that these are very chalky but honestly it's not as bad as she/he made it seem at all!
"
Jessica J. Zavala, Salina, KS USA
"I LOVE Coastal Scents. I bought this on a christmas sale and the shipping was so fast!! It took maybe 2-3 days to arrive to Hawaii (:
I have not been disappointed with any of my orders!! I'll definitely order from them this coming christmas!!"
Jamie, Trinidad
"I ordered my palette on August 10th. It took a week to arrive, but when it did it was in perfect condition. None of the shadows were broken, they were all intact. As soon as I got the palette I started playing around with the colors. They are very bright and vibrant.There are soo many looks that can be created with this palette. I combined my shadow with the Too Faced Eyeshadow Primer and my shadow stayed on all day!! I am sooo loving this palette!!! It is the best!!! "
Oneida, Austin,TX
"This is my first palette from cs and I love it. The pots are kinda on the small side. But I'm hopin it'll last awhile. Lovin the black. Its dark enough for my skin tone. The highlighters aren't very pigmented but they work. Waiting for my brushes to srrive! Can't wait. Thank u much! Loving. CoastalScents (Posted on 9/5/11)
Would you recommend this product to a friend? Definitely yes "
Peachy, Maine, USA
"A lot of people have heard of this palette from YouTube. So many people raved about it so I finally got it. I ordered it on a Sunday and it came on a Thursday so it was pretty fast shipping. Nothing was damaged or broken. I tried out all the colors and I love them!
My only problem is some of the lighter colors aren't very pigmented so you have to keep reapplying it while some of the darker colors are very pigmented. I use the Urban Decay Primer Potion with the eyeshadow and they last ALL day and still look great.
This palette is for ANYONE. If you're a beginner with makeup or a makeup artist this palette is for you. "
Krisa, Las Vegas, NV
Buy Coastal Scents 88 Color Makeup Palette