Dermalogica Daily Microfoliant: Product Details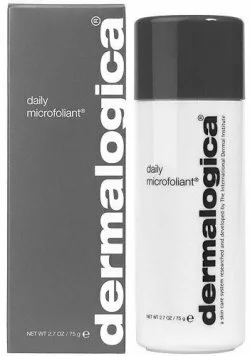 This unique Rice-based enzyme powder microfoliates dulling debris and instantly leaves skin noticeably smoother and brighter. Contains no artificial fragrance or color.
How to use Dermalogica Daily Microfoliant?
Dispense about a half-teaspoon of Daily Microfoliant into very wet hands and create a creamy paste by rubbing hands together. Apply to face in circular motions, avoiding the eye area. Massage gently for one minute, then rinse thoroughly. Follow with Multi-Active Toner or Soothing Protection Spray and prescribed Dermalogica Moisturizer.
How Dermalogica Daily Microfoliant works?
Unique powder activates upon contact with water, releasing Papain, Salicylic Acid and Rice enzymes that micro-exfoliate, leaving skin smoother and brighter.
Skin Brightening Complex of Aspergillus, Grapefruit and Licorice helps to balance uneven skin pigmentation.
Super-soothing blend of Green Tea, Ginkgo and Colloidal Oatmeal helps calm skin, leaving it extraordinarily clear and refreshed.
The video Dermalogica Daily Microfoliant Review by lollipop26
Because Dermalogica Daily Microfoliant is a powder activated by water, one doesnt have to worry about it going off or being full of too many ingredients that can cause irritation! Truly this is an impressive product that can be used daily! If your skin is already in a state of irritation this product cleans it and helps to heal it by not leaving any residue on your skin.
You can safely purchase Dermalogica Daily Microfoliant from Amazon for $36.99 (old price: $50.00)