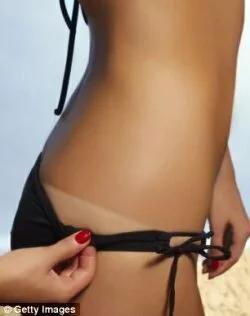 Joliese Spray Tanning
Free 30 Day Supply!
Pay only $1,50 S&H
Coupon code: darker
There is no doubt having a tan makes you feel thinner, sexier and healthier. However, these days baking in the sun is becoming increasingly unpopular as more women realize the sun's UV rays age skin faster than anything (not to mention increase your chance of developing the deadliest form of skin cancer, melanoma).
If you're ready to skip laying out but don't want to give up glowing skin, self-tanners are a great bet. Self-tanners can darken skin for up to a week thanks to dihydroxyacetone, or DHA.
Here we run down a few tips for how to get a great fake tan quickly on your face and body:
Tip #1: Salon tans are your best bet, … but there are too expensive!
If you want a flawless, professional application and can afford the price, head to a spa or salon. For upward of $60, you can get one of many options: Full body exfoliation and professional application of fake tan, airbrush bronzing (where an aesthetician sprays a fine mist of tanner over your entire body), or your least expensive option: spray tanning.
Tip #2: How to get a great fake tan on your face?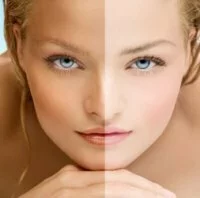 This is a four-step process. Pull hair up in a ponytail before you start so you don't miss any parts. According to InStyle's May 2007 issue, makeup artist Scott Barnes once missed a spot on Jennifer Lopez's ear because he forgot to pull her hair up.
Step one: prep skin by gently cleansing and exfoliating. (Skip moisturizer, which may interfere with the tanner.)
Step two: Apply eye cream. According to Barnes in InStyle, you want the color of your skin to be lighter under the eyes, it makes you look more fresh and younger.
Step three: Blend a few drops of your fake tan and equal parts moisturizer in the palm of your hand then apply over face and neck. You only want to go one shade darker than your natural color.
Step four: Let color develop for three hours then follow up with a sweep of bronzer on forehead, cheeks and nose: areas where the sun naturally shines.
Don't forget: Smooth remaining tanner over earlobes and upper ears. Wash hands thoroughly. (Don't skip the sunscreen.)
Tip #3: How to get a great fake tan on your body?
For this three-step process, start by exfoliating skin with a body scrub in the shower paying special attention to rough areas including knees and elbows (dry skin absorbs higher concentrations of tanner). Shave before you tan. InStyle suggests using a body oil, instead of shaving cream, when shaving.
Barnes suggests rubbing Vaseline on cuticles and nails. This protects your manicure and keeps fingertips and nails from staining.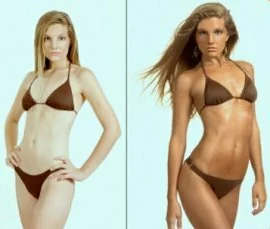 Apply fake tan limb by limb, starting with your legs. Apply over the shin and calf of a leg, sweeping tanner down over your ankle, foot and toes. Then apply tanner to your thigh from front to back, using the excess to cover your knee. Repeat on your other leg. For the final step, apply fake tan to your hips, stomach and torso, following with your shoulders and arms. Wait 10 minutes to dry before dressing and avoid any excessive activity that will make you sweat for at least a few hours. If your tan hasn't set, sweat could cause streaking.
Bonus tips: How to remove fake tan from your hands, without washing off product from the tops of your hands, rub palms along a wet washcloth, making sure to get in between fingers.
Give arms, legs and decolletage a subtle glow with a body shimmer.
Tip #4: How to pick the right fake tan?
There are several types of tanners: Tanners created just for the face, airbrush tanners, cream tans, bronzing gel, tinted tans and tan enhancers. There's body shimmer and bronzing powder. You can layer tanners as colors fade. How?
Apply a lotion then follow with bronzing powder or shimmer. Just be careful not to go too dark.
Try this: Joliese Spray Tanning (Free 30 Day Supple! Pay only $1,50 S&H with coupon code: darker)
Sourse: beauty.about.com
2 Responses to "How to Get a Great Fake Tan Quickly"