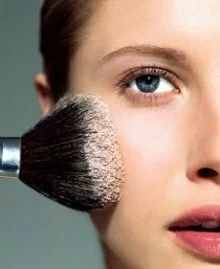 It is true that cosmetics can do a lot for your features, besides concealing your facial flaws. By applying makeup powder, you can reform your looks.
Here are a several tips:
Since there is a difference among daylight and night time illumination, you will need to adapt the quantity of makeup you wear. During the day, wear light and soft makeup and during the night, be bold and dramatic.
How it is Done:
You have the best makeup your money can buy. You spend so much time every single morning doing up your face, but you never get the perfect results you want.
What should you do to look perfect?
To apply makeup powder successfully, what you need to do is to use powder puffs and brushes.
Here's how:
Puffs: As you may already know, powder puffs are available in a big selection of shapes, sizes and colours, and most importantly textures too. The best of all of them is maybe the medium-textured puff made of chenille.
Directions to use: You may want to use this if you have an oily skin that shines often or when you use a powder foundation.
Remember not to apply too much makeup powder all at once. It is more advisable to blot your face of oil mid-day rather than have a caked, overdone look.

Brushes: Use a brush to apply a light amount of makeup powder – this is better than a puff. Being large and fluffy, powder brushes give you the option of being used either loose or pressed.
Directions to use: Dip the brush in the makeup powder and tap it to get rid of any loose powder. Then, using even strokes, brush the powder over your face in a downward direction. Follow the direction of your facial hair so that you get the most even application.
It is essential to apply powder on your face as it sets your makeup, and creates a finish that's free of a shine. When at home, use loose powder and carry a pressed makeup powder compact for a mid-afternoon touch-up.
Benefits of applying makeup powder: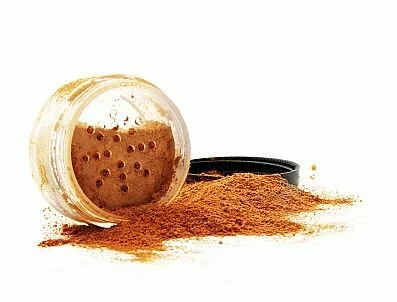 For a fresh look with makeup powder, first apply moisturizer and over that a concealer to conceal any discoloration. After that apply a natural eye shadow and a light coat of mascara. Blend in a natural blush on your cheeks, highlighting them, but not overly so.
This done, apply a light coat of loose powder. And top it up with soft lip gloss. With loose powder, you can be sure that none of it will enter your pores as easily as the heavier pressed powder. Besides, it covers more evenly and has a professional look about it. It can be used day and night-time and all you have to do is to apply makeup powder as often as you like during the day without it looking caked on.
Now that you have done this, is not there a complete transformation in your looks? If this gives you confidence, try out some more styles and mix and match for that perfect look.