Pink makeup ideas – Pink is maybe the most used eyeshadow makeup along with black and brown, which are obviously why the classics. Many girls start with pink makeup just because it is beautiful, very feminine and gives you feeling of pureness and innocence.


Outrageous pink makeup ideas – pink eyeshadow in the centre and black smoky in the outer eye corners. And the false lashes are gorgeous.
OK, may not be very handy for everyday usage, but if you have some special event to indulge in that crazy makeup look… then you have no problems. 😀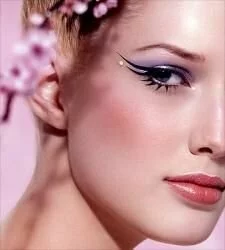 The perfect pink makeup ideas for young women or women who want to look a bit more natural. That light and feminine pink makeup with crazy black eyeliner wings is lovely.
If you are brave enough you can try to wear that pink makeup look even during the day.
See also:
Travel Makeup Bags
Light Eye Makeup Ideas